The perfect footwear for Summer….
Since last week's post many of you have e-mailed to say how much you loved the fact I had shown flat footwear. And you're right – I do have a tendency to go for high statement shoes and the majority of ones I own are either block, stiletto or wedge styles.
However, when it comes to summer there is a favourite style I continue to wear and, guess what, they're flat, they're stylish - they're plimsolls. I have an array of styles and colours (silver, navy, tan, red, white) and have converted many clients to wearing them. Initially they were put off – not knowing what to wear them with except skinny jeans. Whilst I have never mastered wearing mine with culottes or pleated skirts (very difficult in my opinion unless you're incredibly tall) I do love wearing them in the following ways: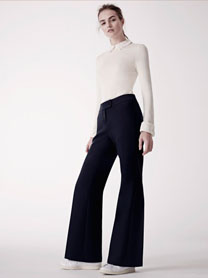 With a great wide leg trouser suit and t-shirt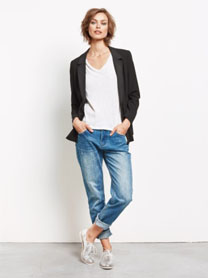 With boyfriend or girlfriend jeans and a suit jacket
With a long maxi dress and denim jacket.
All 3 looks give you effortless style and comfort – what's not to love?
So why not dig out your plimsolls (if you have them) and experiment wearing them in different ways. If you own the Maggie Killick Style wide leg trousers from the Collection or cigarette version give them a try with your plimsolls – It's a look I love wearing and receive many compliments when I do.
If you've yet to own a pair, here are 4 pairs I love from the high-street. Whilst the Jigsaw ones are the most expensive boy do they last so well worth the investment.
Have a great week-end and feel free to share this post.