Spring/Summer Trends to look out for…
Whilst Maggie Killick Style is all about 'effortless style' as opposed to 'fleeting fashion' it doesn't mean we don't love to know about key seasonal trends. What better time to check them out than now when London is buzzing with excitement as we celebrate London Fashion Week.
As I head off to experience the madness of it all I thought I'd give you the heads up on a few trends you'll see hitting the shops for Spring/Summer 2016. As much as these are labelled as "new" as with all fashion it's not really! They are simply trends that have returned, been tweaked and given a new twist. Here are just 3 (illustrated by designers) for inspiration. However, I'll be sharing stylish, high-street alternatives with you in the weeks ahead.
Stripes
As someone who's not a huge lover of pattern – stripes are one of my favourite prints and, to me, remain the most stylish. For those of you worrying about stripes being unflattering – there's no need as this Spring/Summer sees bolder stripes (for the most part) running vertically rather than horizontally. This makes them far more flattering and, teamed with a wedge or platform will lengthen your silhouette beautifully. Keep accessories simple and let the print do the work.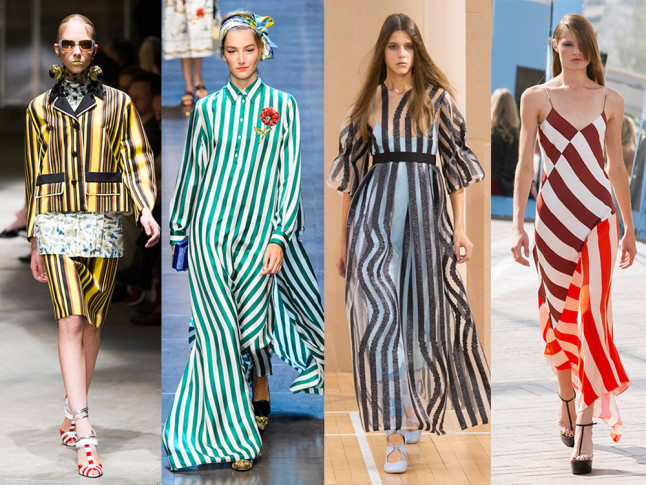 Bare shoulders
The collarbone and shoulders are one of the most beautiful parts of a woman's body, so time to show them off. From dresses to tops the look is super pretty and sexy. A stunning look dressed down with jeans and flats or with some fabulous heels for evening. Just add a well-fitting strapless bra and some great statement earrings.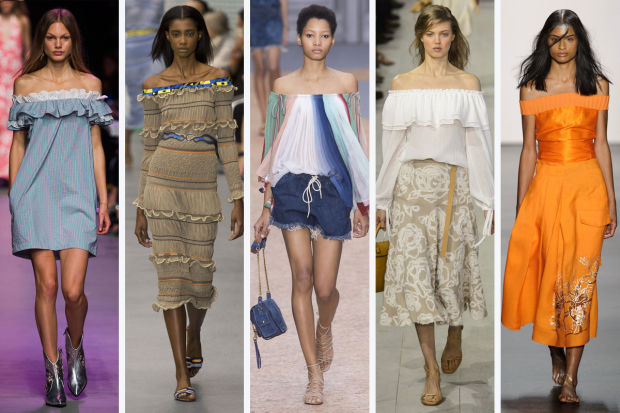 Block heel Statement Sandals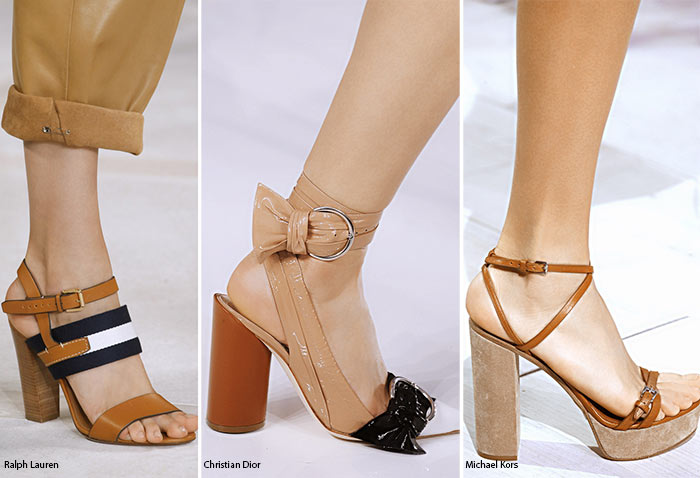 Whilst these are designer versions – the beauty of them is the colour combination: tan footwear always looks super expensive and teamed with black and white makes them not only stunning but incredibly versatile. They will make the simplest outfit cool and stylish. The British High Street will no doubt take the lead from these stunning examples – watch this space!
Have a great week-end and feel free to share this post.