Mixing high-end with bargain high-street brands for versatile, stylish and individual looks
Over the years, in terms of my style, I have remained true to certain pieces: a great white shirt, an oversized knit, a masculine suit jacket, wide leg trousers – to name a few. For me these items give me confidence, remain timeless and continue to inspire different outfits. What has changed over the years is where and how I spend money on clothing. Years ago I would think nothing of picking up high-street bargain pieces on a weekly basis. With age and more money to spend I've become more selective – buying less but making it work hard with the rest of my wardrobe. However, I still love a bargain (who doesn't?).
I'm a great believer in mixing high-street pieces with more expensive high-end staples, rather than dressing head-to-toe in one brand. With this in mind here are some recent high-street bargains I'm enjoying wearing with my investment pieces. Whilst they may not last forever I love them because they work dressed up (with my collection) and dressed down – either way they can give your investment pieces a new lease of life.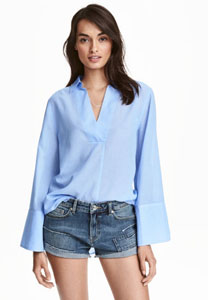 This over-sized shirt looks fabulous tucked into my high-waisted pencil skirt which emphasises the gorgeous exaggerated cuffs. I've also worn it loose with boyfriend jeans and flat sandals for an effortless day-time look.
This is such a simple style but looks so chic teamed with black cigarette trousers and kitten heels. It's equally fabulous dressed down with girlfriend jeans and wedges.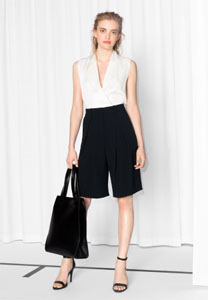 These shorts look fabulous with my silk blouse and strappy heels . I've also loved wearing them with block heel sandals and a simple grey t-shirt for a very different but equally cool look.
Why not see how your wardrobe works mixing high-end and high-street to create smart and casual looks. It guarantees individual style and makes dressing so much easier.
Have a great week-end and feel free to share this post.